MACHINE

Sinhal's Rotorvane has horizontal rotor assembly for working inside a barrel shaped stated assembly. The feed hopper is stamped above the wall proportioned aperture cut on the barrel for intake of leaf. The Rotor assembly has one EN-8 steel spindle/worm, one widepitch feed scroll and eight forward with three reverse twin bladed segmental vanes. At the discharge end a pressure control device is provided for adjusting the pressure on the leaf under processing. A screwed end protruding trunion acts as bearing support of the motor spindle at discharge end. The discharge unit can also be provided with Iris end plate or cone attachment.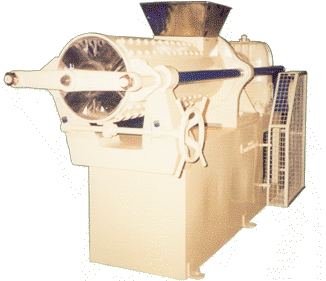 SALIENT FEATURES
Sinhal's Rotorvane can be used for manufacturing black Tea by CTC, Orthodox or Legg cut methods.

Sinhal's Rotorvane is equivalent to four conventional tea rollers.

At a motor speed of 30 or 36 RPM the output of 15" Rotorvane is 1100-1200 Kgs of withered leaf per hour with continuous feeding. The thumb rules is 36 Kgs of leaf per hour per R.P.M. of machine. The machine is supplied with 6" pitch worm & also can be fitted with 8" pitch worm for higher output Machine have forward and reverse pitch vanes but special pitch Vanes can also be fitted. 8" Rotorvane can produce 500 Kgs leaf/hour. Rotorvane of 12" & 18" can also be manufactured which increases the output with the same motor R.P.M.

The Components are made of abrasion resistant non-magnetic 18/8 stainless steel that reduces the wear and tear of the spare parts and increases the life of machine alongwith the quality of the leaf.This results in low maintainance cost & robust design. The component can be made of Brass/Gun Metal. The Segmental vanes are all of forged steel.

The design of the Rotorvane ensures rolling of distored tea leaves, giving more grainy leaves as good as first cut of CTC machine. The machine avoids pilferage through help of belt guard.

Designed as per the Tocklai approved MC Tear 15" Rotorvanes Series 111.

The Cylinder operated by a hand wheel can be mechanically withdrawn facilitating easier maintenance and servicing regularly.
DRIVE

The Rotorvane is fitted with Radicon U 800 20 : 1/15:1 ratio gear box which is suitable for all 8", 12", 15" Rotorvane. The motor required is of 20 HP for 15" and 10 HP for 8" Rotorvane U 600 20: 1/15 : 1, Gear Box can also be used.

Specification: 2.9 X 1.5 X 1m

Floor Area: 1.2m X 4.85m